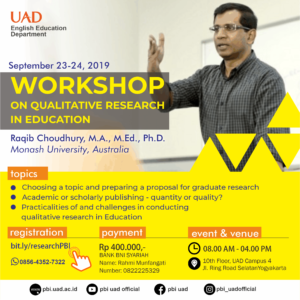 Workshop penelitian kualitatif di bidang pendidikan ini akan dilaksanakan pada 23-24 September 2019. Pemateri pelatihan ini adalah seorang ahli penelitian bidang pendidikan dari Monash University, Australia yakni Raqib Chowdhury. Ia akan berbagi materi terkait penelitian kualitatif bidang pendidikan di Kampus Utama UAD lantai 10. Cukup dengan biaya pendaftaran sejumlah 400 ribu rupiah Anda akan mendapat 3 materi sekaligus selama 2 hari:
1. Choosing a topic and preparing a proposal for graduate research
2. Academic or scholarly publishing – quantity or quality?
3. Practicalities of and challenges in conducting qualitative research in Education
Pendaftaran bisa dilakukan via google form di link ini.
https://pbi.uad.ac.id/wp-content/uploads/logo-3-300x123.png
0
0
admin
https://pbi.uad.ac.id/wp-content/uploads/logo-3-300x123.png
admin
2019-09-08 10:56:37
2019-11-26 10:38:16
Research Workshop on Qualitative Research in Education with Raqib Chouwdhury from Monash University, Australia